Custom Dentures in Springfield
Creating Beautiful, Finished Smiles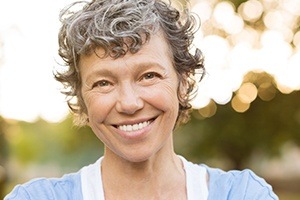 Typical dentures are conspicuously artificial in appearance. One of the most common complaints from denture wearers include the "false teeth" look, causing them to be self-conscious about their dentures and causing them to smile less. This complaint is usually accompanied by shortcomings in the ability to chew and the overall discomfort they experience.
In dentures, excellence often goes unnoticed. The better the dentures, the more natural and lifelike they appear. Advanced Dental Care dentures appear more natural because they are custom designed and handcrafted to compliment your personality, age, gender, and physical appearance. When you elect to have custom dentures at Advanced Dental Care, we will take special measures to make sure your smile is absolutely incredible.
Looking closely at someone with a beautiful smile and straight teeth, one will notice that each tooth is not precisely aligned with its neighbor tooth. Instead, the placement of the teeth varies slightly to create a unique, beautiful and natural smile line. At Advanced Dental Care, the teeth are individually hand set to insure this occurs.
What makes our custom dentures better than traditional dentures?
Our focus is on delivering a custom, cosmetically superior, and more lifelike and natural-looking smile---instead of the stamped-out "denture look"
Custom made for your unique smile and face structure
Individually hand-crafted by highly trained, local denture technicians with a specific and detailed prescription from the doctor
The tissue color of the denture is matched to your existing gums and facial complexion
Smile lifting technology is utilized to achieve a more youthful appearance
We only use lifelike, premium acrylic teeth which utilize a 3-layered tooth structure for a beautiful smile and a natural look
The teeth in the denture are available in multiple shapes, sizes, and shades of white, so you won't get the stamped-out "denture look" which is so common with standard dentures
You will be intimately involved in the customization of your new denture
We utilize State-of-the-Art, premium materials which are the lightest weight and most durable available, resulting in higher-impact strength and longer life
Our dentures are injection-molded and heat and pressure-cured, which reduces the sizes of the pores in the material. This allows for improved polishing of the denture, which results in less staining and less opportunity for bacteria and plaque to grow, making the denture more odor-resistant
Your comfort is our primary concern throughout every step of the process, from your first appointment through your final delivery visit
Our friendly, caring, and gentle staff take pride in providing you with a first-rate dental experience
Our dentures come with a 12-month guarantee
Dentures - Ask the Expert