Implant-Retained Crowns & Bridges – Springfield, IL
Replacing Teeth Without Altering Your Existing Healthy Ones
Are you missing one tooth or multiple consecutive teeth? Having gaps in an arch can have a drastic impact on your daily life and make it difficult to easily chew and speak clearly. They can also put you at a higher risk of developing serious oral health problems such as gum disease and cavities. Traditional restorations meant to replace missing teeth require the alteration of healthy existing teeth, which can put them at risk of infection. With implant-retained crowns and bridges, you can replace one or more missing teeth while preserving your remaining pearly whites. To learn whether you're a good candidate for the procedure, contact our office to schedule a consultation with our doctors' today.
What are Implant-Retained Crowns & Bridges?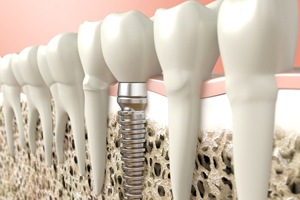 When you're missing a single tooth, your only option to replace it is a traditional bridge. This consists of two crowns that anchor attached replacement teeth/tooth in place. Unfortunately, this requires the preparation of the two healthy teeth located on either side of the gap in your smile. When you choose an implant-retained crown instead, you won't have to worry about your surrounding teeth being altered. Plus, instead of only replacing the biting surface of missing teeth, dental implants will restore the entire structure of them from the roots up.
Implant-retained bridges also use titanium posts to secure replacement teeth in place without altering existing natural teeth. Unlike traditional bridges, ones retained by implants won't require the placement of two crowns on either side of the gap in your smile. Instead, the bridge will be secured to two dental implants.
Benefits of Implant-Retained Crowns & Bridges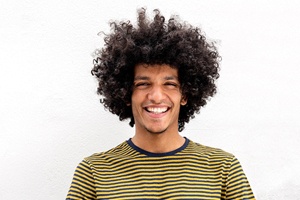 Replacing missing teeth with dental implants in Springfield offers a variety of benefits, including the following:
Through the process of osseointegration, where the dental implants fuse with the jawbone, implants are able to promote bone growth.
Implant-retained restorations are incredibly strong, stable, and durable due to the fact that they're anchored to dental implants instead of natural teeth.
Crowns and bridges connected to dental implants are easy to care for, extending their lifespan and improving your oral health.
Because implant-retained restorations can last for up to 35 years with the proper maintenance, you'll spend less time at your dentist in Springfield for adjustments, replacements, and repairs.
The Process of Replacing Missing Teeth
Before we begin the dental implant process, we'll need to make sure that you're a good candidate for the treatment. To determine this, your dentist in Springfield will thoroughly examine your oral structure and mouth to find out of you need any preparatory procedures, including a bone graft, sinus lift, or gum disease treatment. Once you've healed, we'll schedule your dental implant surgery.
After your implants have fused with your jawbone and your gums have healed, we'll place the abutments, which are small connector pieces that go on the top of your implants to hold your restorations. To capture impressions for your dental crown or bridge, we'll use our digital impression system and send our model off to our dental laboratory. Finally, once your permanent restoration arrives, we'll attach it to your abutments and complete your smile.