Dental Implant Technology – Springfield, IL
Smoother, More Accurate Implant Placement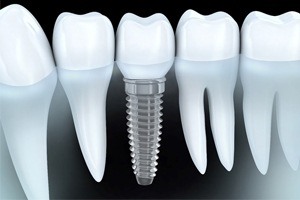 While dental implants in Springfield, IL have a high success rate, many patients may have a smaller margin for error than others due to the construction of their mouths. To be successful, the procedure needs to be as precise as possible. Advanced Dental Care of Springfield makes sure that our dentists always have the best tools for the job; with state-of-the-art techniques like CBCT scanning and computer-guided dental placement, repairing your smile has never been smoother!
CBCT Scanning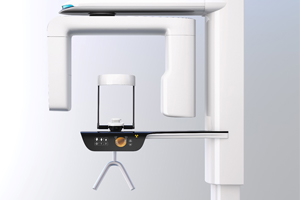 A CBCT (cone beam computed tomography) scanner is a special X-ray machine that can create a three-dimensional image of the inside of your mouth. The machine will fully rotate around your head, taking somewhere between 150 and 200 pictures at various angles; at the end, special software combines these images into a digital 3D model.
Unlike traditional X-rays, CBCT images can show the dentist various dental structures, soft tissues, nerve paths and craniofacial bones in great detail; this gives your dentist in Springfield a more comprehensive understanding of your jaw and other anatomical structure. The technology can be used to improve all kinds of dental surgeries.
Thanks to the models produced by CBCT scans, patients with missing teeth can enjoy various benefits of an enhanced dental implant procedure, such as:
Better Precision: An improved, more accurate understanding of your mouth will make it easier for the dentist to anticipate potential obstacles during a procedure and plan accordingly. Furthermore, CBCT images tend to be of higher quality.
Higher Success Rate: Enhanced precision means that the entire procedure is more likely to succeed than if we merely relied on traditional X-rays.
Safe and Comfortable: The scans are painless, noninvasive and leave no radiation remains in your body afterwards.
Guided Dental Implant Surgery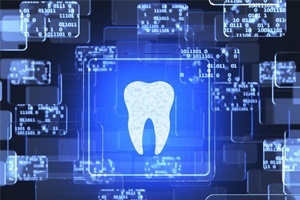 CBCT scans can also be used to directly guide the implant surgery itself. A model is created that lets us "perform" a virtual surgery. This is invaluable in situations that require a particularly careful touch. For example, if all of the teeth in the upper or lower jaw are missing, there won't be any landmarks to indicate where an implant is supposed to go. A computer-generated guide will make it much easier to visualize the correct position for the implant.
Because a guided surgery is much more precise, patients will often experience less pain, swelling, bruising and discomfort afterwards. Smaller incisions are usually required as well, which means your gums will heal faster.