Meet Springfield Dentist Dr. VanderMolen
Matt VanderMolen, DDS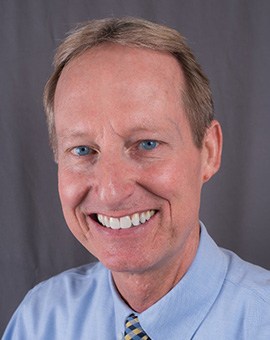 Dr. VanderMolen has been a trusted name in dental excellence in Springfield and Central Illinois for over 30 years. He is a gentle and caring general dentist who prides himself on keeping current with the most recent advances in dentistry, and he utilizes the most predictable techniques and materials for lifelike and long-lasting results. He and our fantastic team of professionals provide friendly, comfortable, and highly personalized service with a strong emphasis on getting to know each patient.
He received his doctorate of dental surgery from the University of Illinois in 1985. He was then selected for the Navy's prestigious postgraduate program in Advanced Dentistry at Bethesda Naval Hospital and graduated first in his class in 1986. He then completed a tour of duty in Italy and was rated the best Navy dentist in all of Europe. He completed his Naval service in Pensacola, Florida and established a private practice in 1990.
Dr. VanderMolen received the Academy of General Dentistry's prestigious Fellowship Award for his commitment to continuing education and for scoring in the 99 percentile on the comprehensive Fellowship Exam. He still completes over 100 hours of continuing education every year.
As a member of the Pierre Fauchard Academy, Dr. VanderMolen is recognized as a leader in dentistry. He is also a member of the American Dental Association, Academy of General Dentistry, Illinois State Dental Society, Chicago Dental Society, International Congress of Oral Implantologists, Crown Council, Dental Organization for Conscious Sedation, the American Dental Society of Anesthesiology, and is a Master of the American Dental Implant Association.
Dr. VanderMolen is the News Channel 20 Dental Expert and has appeared multiple times on their Ask The Expert series. You can also catch him during the Wellness Hour, every Saturday morning at 6:30am on News Channel 20. His mission is to let everyone in the Springfield community know that they can have a healthy, comfortable, and confident smile.
Dr. VanderMolen also recently co-wrote a book with best-selling author, Brian Tracy. The title of the book is The Secret to Winning Big, and it's a compilation of writings from various authors, each talking about one specific secret to winning big in life and in business. Dr. VanderMolen's chapter is about courtesy, something we take very seriously here at Advanced Dental Care, and hopefully you notice!
You can purchase a copy of Dr. VanderMolen's book on Amazon HERE .