Dental Bridges – Springfield, IL
For When There's a Gap In Your Smile
Repairing a tooth with a crown or a filling is one thing, but what if it has been knocked out of your mouth altogether or needs to be removed for any reason? Leaving the gap alone will only lead to chewing difficulties and a variety of oral health issues – not to mention that you'll be feeling self-conscious anytime someone else sees your smile. Here at Advanced Dental Care of Springfield, we can restore your smile by filling small gaps with a dental bridge; if you think you might need one in the near future, get in touch with us today!
What Is a Fixed Bridge?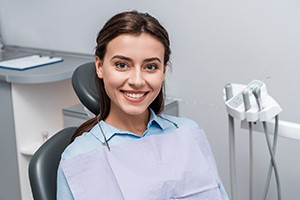 Most patients are familiar with crowns – tooth-shaped caps meant to protect enamel that has become badly decayed or damaged. Two dental crowns can hold a false tooth called a pontic between them in order to form a restoration called a fixed bridge. Just like single crowns, fixed bridges are placed over your teeth, but in this case it's for the purpose of letting the pontic fill in the empty space left behind by a missing tooth. Some bridges consist of multiple pontics in order to replace many teeth in a row.
Am I a Candidate for a Fixed Bridge?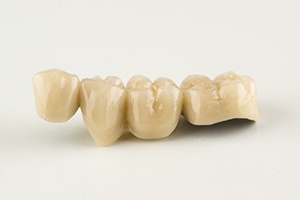 There are a few different options for replacing teeth. A dental bridge might be a good choice in your case if you have lost one to three teeth in a row. The natural teeth around the gap will need to be healthy and largely intact so that they hold the bridge in place. They should also be free of decay. In certain cases, you might be able to get dental implants to support a bridge instead, although this depends on the health of your gums and the amount of bone in your jaw.
What Are the Benefits of Dental Bridges?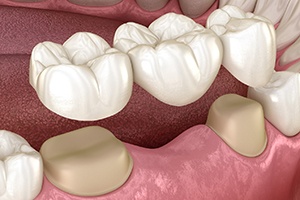 Restored Oral Functions: It takes two full rows of teeth to properly chew your food and speak clearly where others can understand you. A dental bridge completes any rows that have gaps in them.
Improved Appearance: In addition to restoring your actual smile, your bridge will also help you maintain the overall shape of your face, making you look younger as a result.
Healthy Bite: A bridge ensures that the forces of your bite will be spread properly throughout your mouth so that none of your teeth suffers from unnecessary pressure or wear when you bite or chew.
How Do I Care for a Fixed Bridge?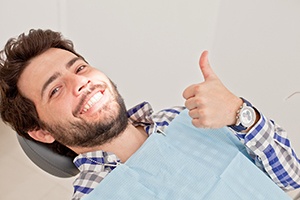 A dental bridge remains in your mouth as long as it stays intact and useful. In order to prolong this lifespan, you should brush twice a day and floss on a daily basis. Do not neglect the area beneath the pontics or the spaces between your natural teeth. Make sure you avoid sugary or starchy foods that can contribute to decay; eat plenty of fruits, vegetable, and other fibrous foods instead. Finally, do not forget to visit us twice a year for regular checkups and cleanings.