Scaling and Root Planing – Springfield, IL
When Advanced Gum Disease Appears, We Can Help
Gum disease is one of the most common chronic diseases in the country and the world, but that doesn't mean you have to live with the irritating symptoms your entire life. With gum therapy at Advanced Dental Care of Springfield from our trained dentists, you can reduce your gum sensitivity, tenderness, redness and bleeding gums in Springfield. If you've never had gum therapy performed before, you should pick up the phone today and give our office a call.
What is Scaling and Root Planing?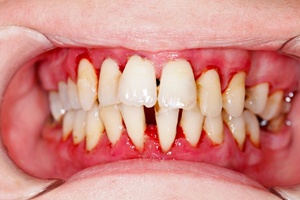 Gum therapy typically comes in two parts. This includes scaling and root planing, both of which have specific purposes to combat gum disease. Scaling is a process where the dentist uses a dental instrument to remove plaque and tartar from all the surfaces of the teeth. This step is particularly important for removing plaque that has developed underneath gum tissue, an area that no amount of brushing or flossing can effectively reach.
Root planing is the process of smoothing out the tooth roots, which makes it more difficult for gum tissue to become infected again later. It also works to reduce gum recession, a common symptom associated with gum disease.
Unfortunately, a traditional dental cleaning won't be enough on its own, which is why the process of scaling and root planing is also referred to as "deep cleaning."
How Do I Know If Treatment is Needed?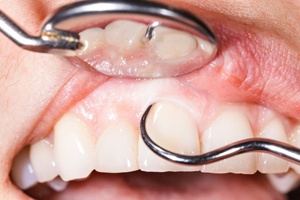 During your dental exam, one of our dentists will perform what is called a pocket depth measurement to determine the presence of gum disease. While bleeding gums, redness, inflammation and sensitivity are all noticeable symptoms, looking at the depth of your current gum pockets is one of the best indicators for determining which treatment would be most effective.
For example, if your pocket depth is between 1 and 3 millimeters, that means they are healthy. However, once they reach four millimeters or more, some form of gum therapy is necessary.
What Should I Know About Scaling and Root Planing?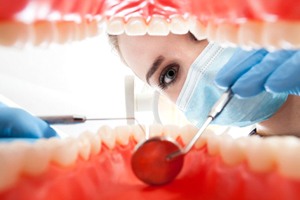 It's important to keep in mind that gum therapy is rarely completed in a single dental appointment. Instead of coming into our office once every six months like a traditional dental patient would, you'll need to visit every three to four months depending on the severity of your condition. Doing this gives the gums time to heal in between visits so we don't damage them. It also gives us a chance to confirm that your treatment plan is working. At the end of the day, we want to remove the plaque and tartar that's causing your gum disease and prevent it from coming back. With routine appointments and improved at-home care, your gum disease can be far more manageable.