Emergency Dentistry in Springfield
Need Help Right Now? Give Us Call!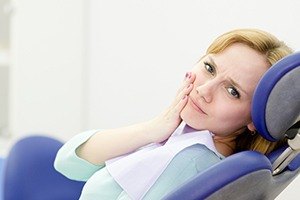 If you or a loved one are currently in the middle of a dental emergency, please call Advanced Dental Care of Springfield to get the immediate help that you need. Our team is capable of treating a wide variety of dental emergencies in-house, and we always try to see emergency patients the day that they call in. The bottom line? When you need dental care fast , just give us a call, and you can trust us to take care of you.
We Can Help with the Following Dental Emergencies:
Knocked out teeth
Partially dislodged teeth
Chipped, cracked, or broken teeth
Severe toothache
Lost or damaged dental work
Object stuck between teeth
Injury to the lips, gum, or jaw
Pain or swelling the face
If you are unsure whether or not your situation is an emergency, go ahead and give us a call anyway. We'll be happy to let you know what you should do next.