Emergency Dentist in Springfield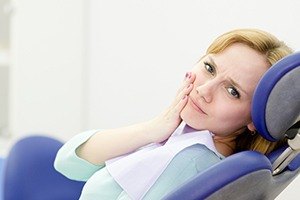 Although you never expect yourself to be in a position where you or a loved one are having a dental emergency, it happens more often than you might believe. In fact, it is estimated that one in six Americans face one every year. When the unexpected strikes, do not panic. Contact your emergency dentist in Springfield at Advanced Dental Care. Our team can treat a wide variety of dental emergencies in-house. We understand that time is of the utmost importance, which is why we try to see you the same day. With Advanced Dental Care, the fast, compassionate care you need is only a phone call away.
Don't Wait! Call For Same-Day Treatment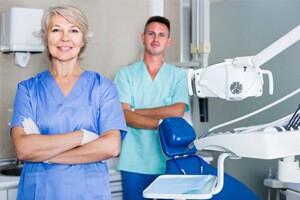 When facing a dental emergency, your first thought may be to head to your closest hospital; however, they are not capable of treating oral health issues. Unless you have uncontrollable bleeding or suspect that you have a broken jaw, you should contact your dentist right away. With emergency dentistry in Springfield, we will help to save your tooth from needing to be removed while stopping your discomfort.
While you wait for your appointment, there are several things that you can do at home to help make the situation easier.
Knocked-Out Tooth
Hold the tooth by the crown and rinse it with water. Do not use any soaps, scrub it, or dry it. If you can reinsert it back into its socket. If you cannot, place it in a cup of milk or water.
Partially Dislodged Tooth
Gently push the tooth back into position and bite on a piece of gauze to prevent it from moving.
Chipped, Cracked, or Broken Teeth
Rinse your mouth with salt water and keep the tooth clean. Avoid placing pressure on it until after it has been treated. If you are in pain, take an over-the-counter pain reliever.
Severe Toothache
This is often a sign of an infection and requires immediate care from your dentist. While you wait, take a pain reliever to manage your discomfort.
Lost or Damaged Dental Work
Do not try to repair it on your own. Instead, place it in a safe place and maintain your oral hygiene. If a crown or filling was lost, avoid chewing on the tooth until after it has been fixed.
Object Stuck Between Teeth
Gently try to use floss to get the object out. If you cannot, do not use any sharp tools, like scissors or tweezers to remove it. Instead, wait until you see your dentist.
Injury to the Lips, Gum, or Jaw
Apply gauze for 20-minute intervals to control any bleeding. To reduce swelling, apply a cold compress to the outside of your face.
Pain or Swelling of the Face
Your dentist will get to the root cause of the problem. In the meantime, use cold compresses and over-the-counter pain relievers to manage your discomfort.
Call Your Emergency Dentist Today
If you are unsure whether you are having a dental emergency, call us anyway. We will be happy to let you know what you should do next to help you through the difficult time.