Implant-Retained Dentures – Springfield, IL
Stabilize Your Denture with Dental Implants
Losing all your teeth in one or both arches is devastating to your self-esteem and your quality of life. Even the simplest of tasks are more difficult, like chewing or speaking. You've tried a traditional denture to rebuild your smile, but it didn't give you the results you wanted. You're not out of options. Now, you can enjoy the next best thing to what you lost using dental implants in Springfield. We'll secure your denture, so you'll never need to worry about any slipping or irritation again.
How Do Implant-Retained Dentures Work?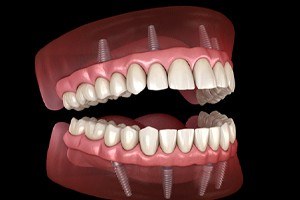 Dentures have been an effective treatment for complete tooth loss for decades. Thanks to the latest innovations in dentistry, they've undergone some revolutionary changes over the last several years.
Typically, a denture is held to the gum tissue using suction or an adhesive. Now, we can improve their fit using elite technology and materials, but they will always have their limitations. Securing the denture with implant posts eliminates the disadvantages of the traditional method. An average of 6 to 8 implant posts are strategically placed into the jawbone to give you a close replica of your natural teeth.
Am I a Candidate for Implant-Retained Dentures?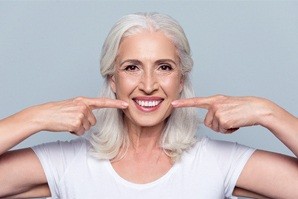 If you've lost all your teeth in one or both arches and a traditional denture didn't give you the results you wanted, you may be a candidate for implant-retained dentures. The long-term success of your new smile relies on your jaws ability to support the posts and remaining infection-free. As a result, you must have good oral and general health.
We perform a comprehensive consultation to ensure you have minimal risk factors for complications, like untreated gum disease, low density in your jawbone, or poor oral hygiene habits. Besides a visual examination, we also take a digital x-ray and a CT scan to ensure you're a candidate.
Process for Implant-Retained Dentures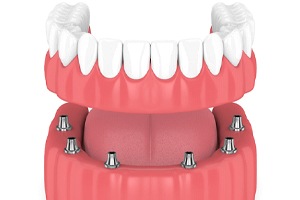 Unlike a traditional denture, the process to replace your missing teeth with dental implants will take several months, but it is time well spent. After you've healed from any previous treatments, like bone grafting, dental implant posts are surgically placed into your jawbone into pre-determined locations. You'll spend the next several months healing as your jawbone fuses to the posts through a process called osseointegration. Once you've healed, special fixtures called abutments are placed on each post. They are necessary to connect your carefully crafted denture to the implants.
Benefits of Implant-Retained Dentures
A traditional denture only replaces the crowns of your teeth, but dental implants go a step further to also replace the roots. As a result, you will enjoy a variety of benefits including:
Over a 95% success rate.
Looks and feels natural.
Eliminates slipping and irritation.
Preserves your jawbone.
Supports your facial tissues.
Regain 70% of your biting force.
Easy maintenance and care.
Cost-effective.
Schedule Your Consultation Today
You don't need to live with the irritation of a traditional denture. Your dentist in Springfield can stabilize your smile with dental implants. Contact our office today to schedule your consultation.