Dental Crowns – Springfield, IL
We Can Restore Your Problem Tooth
Do you have a tooth that has a large chip or crack? Or a tooth that has a cavity so large you doubt a filling would be enough to restore it? What about a tooth that has a severe stain or is misshapen? For all of these problems and more, it sounds like you could use a dental crown in Springfield. Keep reading below to learn more about dental crowns and how they can benefit you.
What Is a Dental Crown?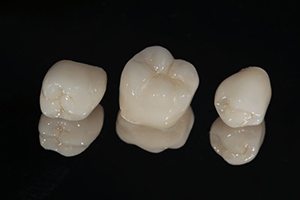 A dental crown is a "cap" shaped like a tooth that fits snugly over a tooth to restore its structure, function, and appearance. In as little as two visits to our office, we can restore your problem tooth to its former glory. Crowns are typically made of dental porcelain, a highly durable material that is well able to withstand the daily wear and tear of chewing. In addition, porcelain perfectly resembles the enamel of your teeth, even in the way light bounces off of it.
What Are the Benefits of Dental Crowns?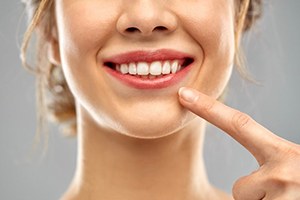 There are several advantages to getting your teeth restored with a dental crown, including:
Preventing a decayed tooth from becoming damaged further
Strengthening weak teeth
Improving the appearance of a cosmetically imperfect tooth
Reshaping misshapen, worn down, or stubby teeth
Correcting tooth discoloration
Restoring decayed, cracked, or otherwise damaged teeth
Replacing old metal crowns with a more aesthetically pleasing alternative
Being incredibly durable
Who Is a Good Candidate for Dental Crowns?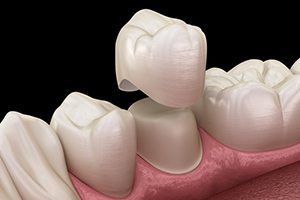 You might be a good candidate for a dental crown if you need to:
Replace a large filling when there isn't a lot of natural tooth structure left
Protect a weakened tooth from fracturing
String together a dental bridge to replace a missing tooth
Cover a dental implant
Protect a tooth that has been treated with root canal therapy
Improve the size, shape, and color of a tooth
How Do I Get a Dental Crown?
After your consultation, we can typically place a dental crown in only two visits to our Springfield office. During your first appointment, we'll take x-rays and impressions of your tooth, sending them away to a dental lab to design your crown. Next, we'll administer local anesthetic to numb the area. Then, we'll file down the tooth that is receiving the crown so that your restoration doesn't bulge out in your smile. To protect your tooth until your crown is ready, we'll place a temporary, which is usually made of a plastic material. A few weeks later, you'll return to our office, where we'll replace your temporary with your permanent crown.
How Long Do Dental Crowns Last?
Most dental crowns last between 5 and 15 years, but with proper care, you can prolong its lifespan even further. Make sure to brush and floss your teeth every day and attend checkups with us at least twice a year. Avoid using your teeth as tools or to chew on inedible objects like ice or pens. Finally, if you have a habit of grinding your teeth or you play sports, ask us about crafting a custom mouthguard to protect your crown as well as the rest of your teeth.
Do you think you could benefit from getting a dental crown in Springfield? If so, don't hesitate to contact Advanced Dental Care of Springfield today to schedule a consultation.