Tooth-Colored Fillings – Springfield, IL
Metal-Free Solutions for a Healthier Smile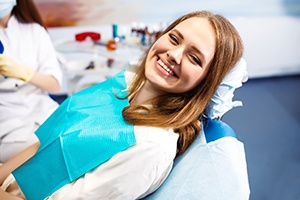 When a cavity develops, there are ways in which it can be treated. Typically, your dentist will suggest a filling or a dental crown depending on the severity of the decay. In the past, only traditional amalgam fillings were used; however, advancements in dentistry are now giving patients an alternative that is more aesthetically pleasing and environmentally-friendly – tooth-colored fillings in Springfield! At Advanced Dental Care of Springfield, our team can easily fill your problem tooth, safely and effectively repairing and restoring your smile's natural beauty. To find out how you can get this type of restorative treatment, contact our office today!
Benefits of Tooth-Colored Fillings Over Traditional Amalgam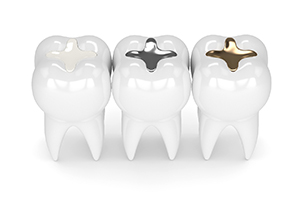 Tooth-colored fillings offer patients an abundance of benefits over the use of traditional amalgam. Not only are they more aesthetically pleasing because of the ability to match the composite resin to your natural tooth color, but they also blend in seamlessly with your smile. Most people, unless you tell them, will never be able to tell that you've had dental work.
Also, tooth-colored fillings allow you to keep more of your natural tooth structure. Traditional amalgam requires more of the tooth to be removed and can ultimately damage the structure over time; however, the malleable resin easily fills in the cleaned area of the tooth, helping you to avoid potential problems in the future.
Another beneficial aspect of these restorations is that they are placed in one simple visit to our office. Unlike other forms of restorative care (i.e. amalgam fillings or dental crowns) that require two visits, tooth-colored fillings are much easier to place, allowing to spend more out of the dentist's chair and with your family and friends.
The Process of Receiving Tooth-Colored Fillings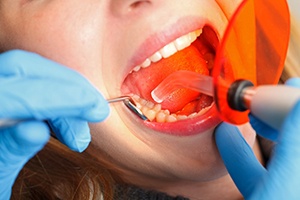 The process of having a tooth-colored filling placed is actually quite simple. First, one of our qualified dental professionals will administer a local anesthetic to numb the area and ensure you are comfortable throughout the visit. Then, they will begin to clean out the decayed areas of your tooth before filling it in with a composite resin that has been matched to your natural tooth color.
Finally, to harden the resin into place, a curing light is used, making sure that there is a tight seal that will keep out harmful bacteria that could potentially cause reinfection. With a final polish, you will have a fully restored, beautiful, healthy smile.
Understanding the Cost of Tooth-Colored Fillings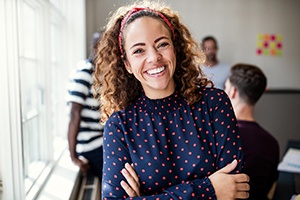 Naturally, if you want a solution that is more appealing, it's going to probably cost a bit more; however, your dental insurance plan typically covers restorative treatment likes dental fillings. Depending on how your insurance company designates a filling (major or minor), you may pay anywhere from 30-50% of the total cost. But before you agree to any treatment, it is best if you contact your insurance company to find out just how much a tooth-colored filling will cost.
Because every patient is different, there is no way to provide a clear number for this type of treatment, but some of the factors that often contribute to the total cost include:
The severity of the cavity (how big it is)
Where the tooth is located within the mouth
Where the cavity exists on the tooth
If any previous treatment has been performed on that particular tooth