Gum Disease – Springfield, IL
Protecting Your Mouth From Permanent Damage
Periodontal disease, also known as gum disease, is one of the most common and damaging dental problems in the entire world. Early symptoms include red, swollen, and tender gums that bleed often, but it can eventually develop into the leading cause of tooth loss! We'll screen your gums whenever you come to see us here at Advanced Dental Care of Springfield, and should we spot a problem, our dentist in Springfield will immediately be able to take care of it with periodontal therapy. With the treatments outlined below, we can make sure this global issue never causes your smile any trouble.
What is Gum Disease?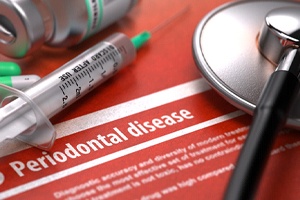 Harmful oral bacteria accumulate in your mouth and feed on sugar and carbohydrates found in plaque. After eating, they produce waste such as enamel-eroding acid and toxins that infect your oral tissues causing irritation, swelling, and a variety of additional problems. As the plaque hardens into tartar, which can't be removed with a regular toothbrush, these toxins linger, severing the connection between your gums and teeth and causing pockets of bacteria to form.
When this condition is left untreated, it can cause permanent damage to your mouth, that's why our team is dedicated to diagnosing and reversing it early, so you can enjoy your natural smile for years to come.
What are the Symptoms of Gum Disease?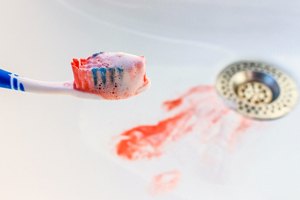 There are two primary stages of gum disease called gingivitis and periodontitis. The earliest stage is gingivitis, which can cause symptoms such as:
Inflamed, swollen, and red gums.
Bleeding gums in Springfield.
Chronic bad breath.
If the disease is left untreated and progresses into periodontitis, the symptoms become more severe and can leave a trail of permanent damage. Some signs of the advanced stage of gum disease include:
Gum recession.
Pockets of pus between teeth.
Pain while chewing.
Loose and shifting teeth.
Tooth loss.
If you notice any of these symptoms, don't hesitate to contact us immediately. We'll examine your teeth and gums and establish what the best treatment method for your condition is.
Why is it Important to Treat Gum Disease Early?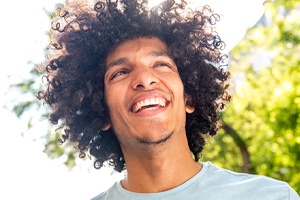 Without timely treatment, gum disease can cause permanent damage which requires you to receive additional dental treatment, such as restorations for tooth loss, added protection, and strength. Symptoms of gingivitis are often less severe and can be reversed with proper brushing, flossing, and a deep cleaning. When it's left to progress, the effects become more severe and permanent, and the disease itself becomes incurable. You'll only be able to gain temporary relief from your periodontitis symptoms and stop it from getting any worse.
How Do We Treat Gum Disease?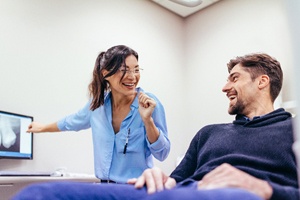 Depending on your unique needs, at Advanced Dental Care of Springfield, we thoroughly examine our patients' gums and teeth so we can provide you with the best gum disease therapy in Springfield. We offer multiple procedures, which we've listed below.
Scaling & Root Planing
If we catch gum disease during its initial stages, a deep cleaning involving scaling and root planing may be all we need to get it under control. For this, we'll first use an ultrasonic cleaner to remove any plaque and tartar deposits from around your gumline (scaling), and then we'll gently smooth out the rough surfaces of the teeth's roots (root planing). Why? This will make it harder for plaque to gather on them in the future, therefore lowering your chances of redeveloping gum disease.
Soft Tissue Laser Therapy
For more advanced gum disease, we may need to take care of it using our soft tissue laser. This extremely advanced instrument is capable of instantly vaporizing harmful bacteria below the gumline and painlessly removing infected tissue using an extremely concentrated beam of light. It sterilizes the area and even cauterizes blood vessels, meaning a patient will experience little to no pain, swelling, or bleeding during or after the procedure.
If you have any questions or are experiencing any out-of-the-ordinary symptoms, contact our office so we can develop a treatment plan to tackle your gum disease.