John Neely, DMD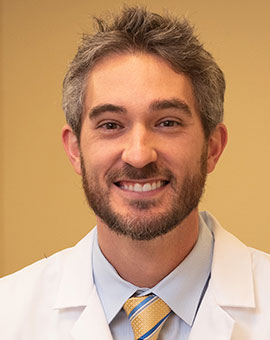 Dr. John Neely was born and raised outside of Nashville, Tennessee where he practiced for several years before deciding to move to Springfield and work alongside the amazing doctors and team members at Advanced Dental Care of Springfield. Dr. Neely started his education at Auburn University where he studied Biomedical Sciences. From there, he attended dental school at the University of Louisville and earned his Doctorate of Dental Medicine, graduating at the top of his class. He then worked as Chief Resident in an advanced general dentistry program at the University of North Carolina in Chapel Hill. There, he met his wife Alison, and they moved back to Tennessee to start their careers.
During this time, Dr. Neely successfully completed advanced dental implant training through Alabama Implant Education and a Comprehensive Implant Residency Program from McCracken Implant Education. While there, he met Dr. VanderMolen, and during their implant training, they became colleagues and friends. Dr. Neely recalls that, "During the course together, I realized Dr. VanderMolen was both an awesome dentist and friend and someone who I could learn a great deal from. Dr. VanderMolen and I have a very similar philosophy of dentistry and patient care, and it is going to be a great honor to have his mentorship and guidance at Advanced Dental Care of Springfield."
Dr. Neely provides IV conscious sedation to give his patients the most relaxing environment possible to receive their needed dental care. He is also an active member of the Academy of General Dentistry, of which he will be earning Fellowship status in July 2020 for furthering his skills post dental school with 500 hours of continuing education and didactic testing.
Outside of the office, he spends the majority of his free time with his wife and two dachshunds, Opal and Lola. They enjoy exploring their new town of Springfield as well as cooking, reading, and relaxing on the lake. When they travel, they love to visit Sanibel, Florida, which is their "happy place." He is honored to be a part of our practice, and he very much looks forward to taking care of our patients in the greater Springfield community.