Fastbraces in Springfield
Straighten Teeth in Less Time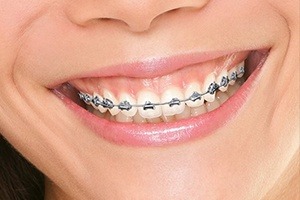 Every day when you look in the mirror, the first thing you notice is always your crooked, crowded, and gapped teeth. You'd love to have them straightened, but you can't imagine wearing metal braces for two to three years to do it, constantly having to adjust your schedule to visit the dentist. Thanks to Fastbraces®, you can now get the results you want in just a fraction of the time, and you can get them right here from Advanced Dental Care of Springfield.
Traditional braces take two to three years to straighten the teeth, while Fastbraces® from a cosmetic dentist can do it in as little as 3-12 months. Why are they so much faster? Because unlike braces, they move both the crown and root of your tooth at the same time. They move your teeth to their final position in the most direct way possible, saving you months, even years of time in the process.
In the end, you'll get your dream smile faster, and you'll also need to make MUCH fewer visits to the dentist for progress checks. To learn more about Fastbraces and what they can do for you in orthodontics, contact us today.
Fastbraces - Wellness Hour