February 2020 Newsletter
Make Sure Your Gums Aren't Red this February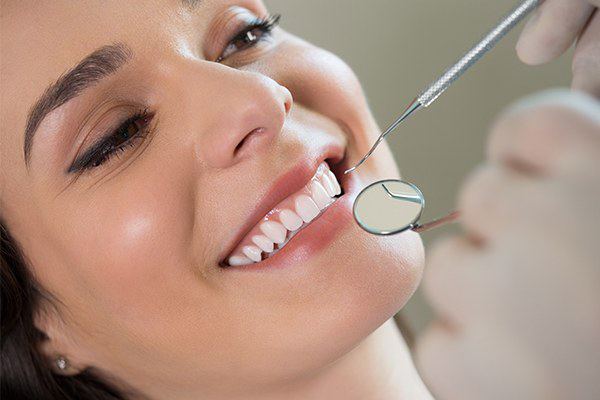 When we think of the month of February, we often think about the color red. For example, you might be getting red roses for your significant other, red-wrapped chocolates from your spouse, and seeing red banners displayed at your favorite stores and shopping centers pushing Valentine's Day promotions. While you might be seeing red far more often in the coming weeks, you definitely don't want to see red when you smile in your bathroom mirror.
The fact is gum disease is incredibly hard to catch on your own, even in the advanced stages. This is just another reason why routine checkups are crucial for protecting your oral health. If your gums match the bouquet of roses (unless the roses are light pink, of course), you likely have yourself a problem. Thankfully, Advanced Dental Care of Springfield is prepared to help. In our February newsletter and in honor of National Gum Disease Awareness Month, we'll be highlighting what gum disease actually is, the symptoms, and what your treatment options are going forward!
What is Gum Disease?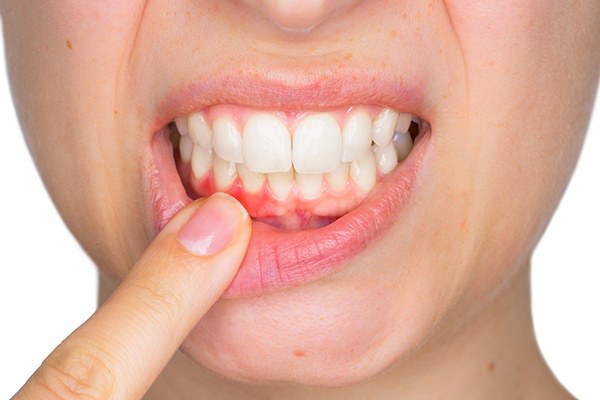 While you may not think of it as one at first, but gum disease is in fact an infection of the gum tissue. When bacteria release plaque acids, those acids then begin attacking gum tissue and tooth enamel. If left unremoved, the plaque will solidify and only continue to attack the tissue.
Without removal, whether it's through improved at-home oral care or professional intervention at our office, the gums and the supporting tissue holding your teeth in place will only deteriorate further. Eventually, teeth may need to be removed. Thankfully, this outcome can be avoided when you practice routine care and maintain professional exams and cleanings at our office.
The Signs and Symptoms You Need to Know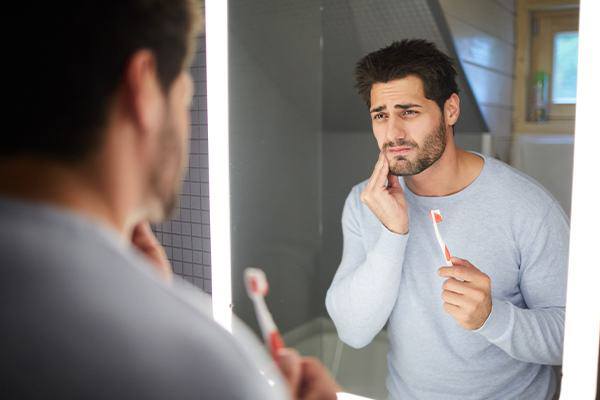 While the signs and symptoms of gum disease are not always so easy to catch, there are a few worth keeping in mind.
During the earliest stages of gum disease, known as gingivitis, you can expect mild redness and swelling in your gum tissue. You may also notice minor bleeding after flossing. If you continue your flossing regimen, bleeding should cease.
However, if you notice any of the following symptoms, you need to contact our office right away so you can get scheduled for periodontal therapy. These symptoms include:
Swollen or puffy gums
Bright red or purplish gums
Gums that feel very tender when touched
Gums that bleed easily (either from brushing, chewing or doing nothing at all)
Receding gums (or teeth that appear longer than usual)
Loose teeth
Changes in the way your denture fits
New spaces developing between your teeth
What Are Your Treatment Options?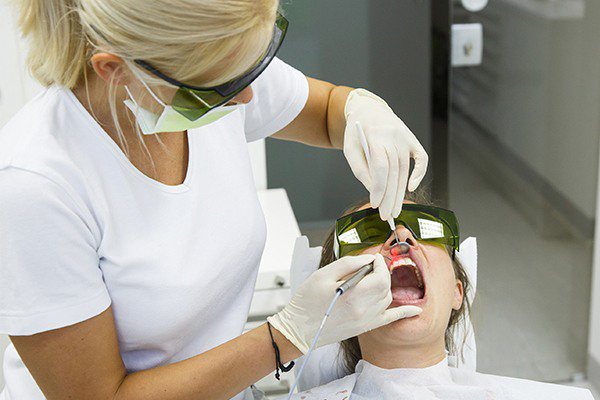 At Advanced Dental Care of Springfield, we want to make your treatment as comfortable as it is effective. While we incorporate traditional options like scaling and root planing to treat periodontitis, we also provide soft tissue laser treatment, which ensures many other benefits.
Scaling and root planing involves the use of dental utensils to remove plaque and tartar that sits above and below the gum line. Removing tartar from below the gum line is particularly important because normal brushing and dental cleanings cannot reach these areas on their own. In the case of root planing, we smooth out the tooth roots so they better attach to the gums. This makes it harder for plaque to reach the roots moving forward as well as lowers your chances of redeveloping gum disease.
Soft tissue laser therapy is typically reserved for those with severe levels of gum disease. With it, we can instantly vaporize damaged and dying gum tissue, sterilize the area, and cauterize blood vessels. This means we can make sure that all patients experience little to no pain, bleeding or swelling during and after the procedure!
February might be a red month, but that doesn't mean your gums should have to match it! Schedule an appointment with one of our dentists at Advanced Dental Care of Springfield today to make sure your gum health is under control!