October 5, 2021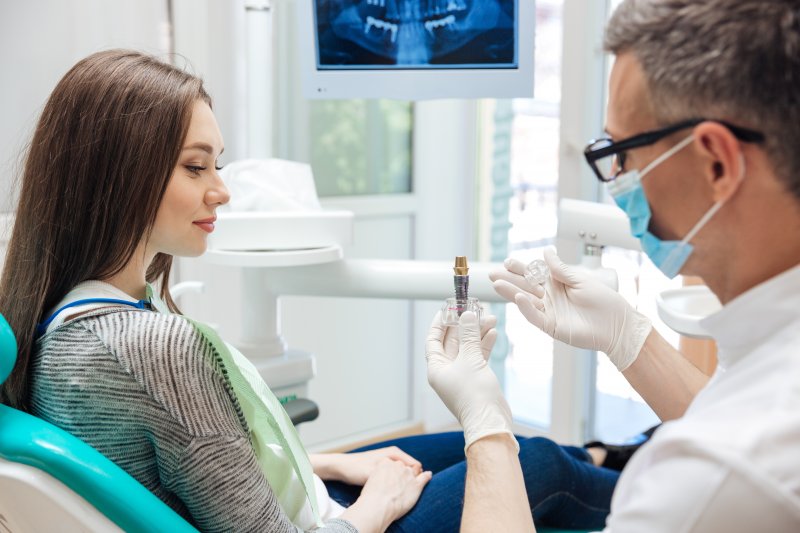 If you're missing one or more teeth and looking into tooth replacement options, you may be considering getting dental implants. Being well-informed before undergoing an implant procedure is a crucial part of ensuring you're making the right choice for your smile. To help you get all the information you need before moving forward with treatment, here are four questions you should ask your dentist at your dental implant consultation. 
Question #1: How Much Experience Do You Have with Dental Implants?
Knowing how much experience your dentist has with dental implants will help you ensure you're getting quality care. They should be ready and willing to provide details about their experience and qualifications. Make sure they're a board-certified periodontist or an oral surgery professional, and find out if they are a member of the International Congress of Oral Implantologists.
Question #2: Am I a Good Candidate for Dental Implants?
Starting off with healthy teeth and gums is crucial to a successful dental implant procedure. If there are any oral health issues present, your dentist will need to correct them before proceeding. They will also take X-rays to make sure the bone in your jaw is dense enough to adequately support implants. If not, a bone graft will be necessary. Oral health habits such as smoking also impact a patient's ability to have a successful procedure.
Question #3: How Does the Dental Implant Procedure Work?
Getting dental implants involves inserting them through the gums and directly into the jawbone. Each implant can take up to an hour to place and it will take several months for them to completely fuse to the jawbone through osseointegration. Once the implants have fully healed, you'll need to schedule a follow up appointment to have the restorations attached.
Question #4: How Long Does Recovery Take?
Though recovery times may vary, your gums will likely be sore for several days post-op. While you'll be able to start eating regular foods again once you start to feel better, you should continue to avoid anything sticky, tough, sharp, crunchy, spicy, chewy, acidic, or overly hot or cold. Keep ice packs and pain medicine on hand to make recovery more comfortable. You'll only need up to a week to feel completely recovered, but your jaw will take 4-6 months to heal completely.
If you come up with more questions, make sure to ask your dentist so you feel completely comfortable and confident in the dental implant procedure. You'll be on your way to a fuller, more beautiful smile before you know it!
About the Author
Advanced Dental Care of Springfield aims to help their community achieve beautiful, healthy smiles that will last. They offer effective, precise, and comfortable care that will have you feeling safe and relaxed from the moment your walk through the door. If you're considering getting dental implants, one of their four talented dentists will be happy to answer any questions you have about the procedure to ensure you feel confident that you're making the right choice for your smile. If you're interested in learning more about dental implants, call Advanced Dental Care of Springfield at (217) 546-3333 or visit their website.
Comments Off

on 4 Questions to Ask at Your Dental Implant Consultation
No Comments
No comments yet.
RSS feed for comments on this post.
Sorry, the comment form is closed at this time.