May 12, 2022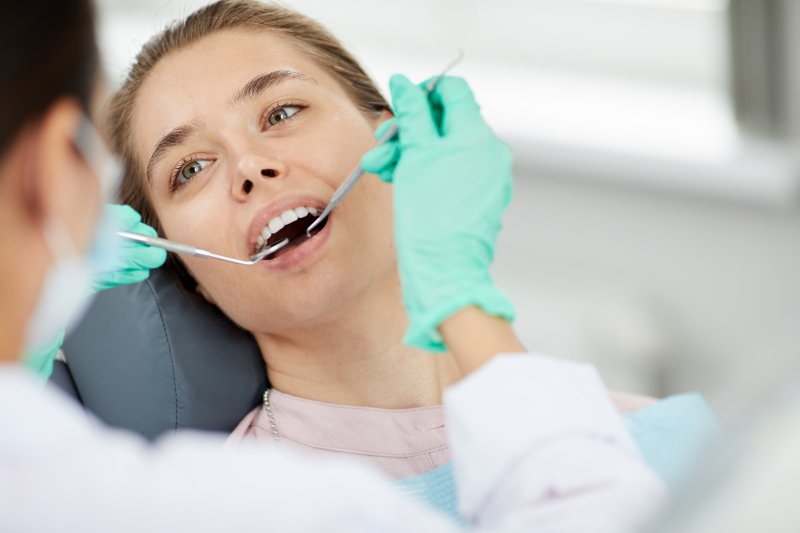 Other than brushing and flossing every day, getting a routine dental checkup and cleaning is crucial for protecting your smile. Not only will your dentist evaluate your oral health and treat any issues they may detect, but they'll also provide professional polishing for your pearly whites! Since you may not see them often, you'll probably wonder how to go about your appointment. Read on to learn four tips to make your dental checkup in Springfield an easier process.
Tip #1: Brush & Floss Before Your Visit
Cleaning your teeth before your appointment can be very helpful for your dentist. Doing so can save them time from clearing away any food particles or debris from your smile. This can also make it simpler for them to detect and treat any plaque and tartar buildup. You might also hold off on eating anything right before stepping into the office.
Tip #2: Arrive on Time
By arriving early or on time, you can help make your visit run smoother. Your dentist will likely have other patients in their schedule, and they'll appreciate you for showing up on the dot. Also, patients who get there ahead of time are often less anxious about their checkups!
Tip #3: Budget Your Expenses
To avoid any extra stress with the financial aspect of dental care, you can speak with your dental team about insurance coverage. Review your benefits in your policy before your visit, that way you understand how much of the treatment is taken care of. If you don't have dental insurance, then you can ask if your dental office offers alternative treatment plans to help you manage the cost.
Tip #4: Inform Your Dentist of Issues & Concerns
During your appointment, feel free to communicate any fears or issues you may experience. This makes it simpler for your dentist to spot any root causes for developing problems. You should especially inform them if you have dental anxiety, as they'll want to make sure you're as comfortable as possible throughout your treatment. They may offer sedation therapy to help keep you safe and relaxed during your visit.
With these few tips, you can feel more confident having a stress-free experience for your next dental checkup! And if you have any questions before then, you can always speak with your dentist to ease your concerns.
About the Author
Dr. Matt VanderMolen is a proud affiliate of numerous prestigious groups such as the Academy of General Dentistry, the Illinois State Dental Society, and the Dental Organization for Conscious Sedation. He earned his dental doctorate from the University of Illinois and has been delivering outstanding and modern care for over 35 years. He offers a vast array of comprehensive treatments, including dental checkups and cleanings to maintain and protect your smile. If you'd like to schedule your checkup, visit his website or call 217-546-3333.
Comments Off

on 4 Tips to Make Your Dental Checkup Easier
No Comments
No comments yet.
RSS feed for comments on this post.
Sorry, the comment form is closed at this time.