November 10, 2022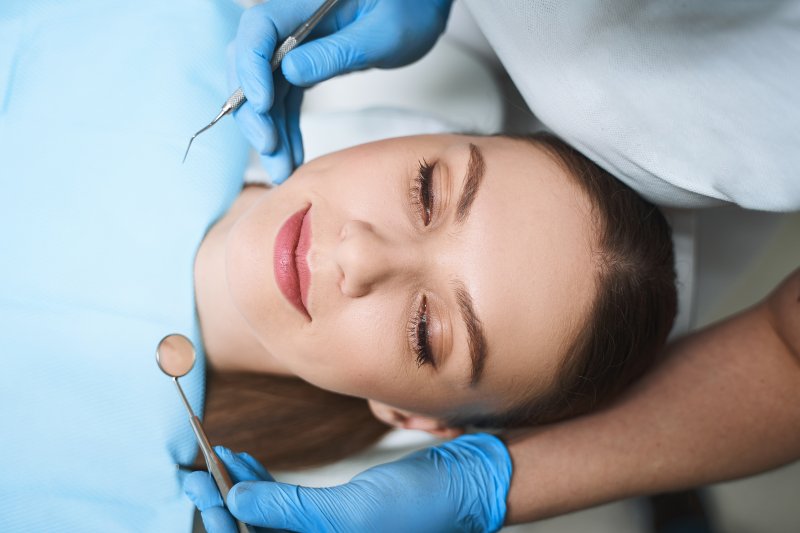 Do you suffer from dental anxiety or dental phobia? You aren't alone. Approximately 9-20% of adults in the United States have some type of dentophobia. Fortunately, you don't need to let this get in the way of getting essential dental care. There are several different sedation dentistry options that help patients like you receive quality oral healthcare without stress. Read on to learn the answers to the most common questions asked about sedation dentistry.
What Is Sedation Dentistry?
Sedation dentistry uses medication to help patients relax during dental procedures. While it is often referred to as "sleep dentistry," patients are not usually asleep throughout their appointment unless they are under general anesthesia, which is used for certain complex procedures. Sedation dentistry brings patients into a more relaxed state, allowing them to receive treatment without the additional stress they would normally experience.
What Types of Sedation Dentistry Are Available?
Nitrous Oxide Sedation
This is best for patients who are mildly anxious about going to the dentist. You probably know this one by the common name, "laughing gas," because of the euphoric feeling that it gives you. A mix of nitrous oxide and oxygen is administered through a nasal mask. The effects hit and wear off in a short amount of time. This way, you can even drive yourself home after the appointment and get on with the rest of your day.
Oral Conscious Sedation
This is a great option for patients who experience moderate to severe anxiety as well as those undergoing longer treatments. This sedative is taken in pill form about an hour before your treatment. When it is time to get started, you will already feel completely relaxed. Because this type of sedation has more lasting effects, you will need to arrange for a trusted friend or family member to drive you home.
IV Sedation
IV sedation is the strongest and fastest-acting sedation method available. This medication is administered directly into your bloodstream via a small injection. Within a very short period of time, you will feel deeply relaxed. The clinical team will adjust your sedation level to make sure you are completely comfortable and safe throughout the duration of your treatment. Just like oral conscious sedation, this method has lasting effects, so you will need to arrange for a ride home ahead of time.
Who Can Benefit from Sedation Dentistry?
Sedation dentistry is known to help people with dental fear and anxiety, but it can be useful for others as well. Patients may want to consider it if they have:
A low pain tolerance
Sensitive teeth or gums
Trouble sitting still for long periods of time
An oversensitive gag reflex
A need for extensive dental work
Your Dental anxiety doesn't have to get in the way of achieving excellent oral health. Ask your dentist about sedation dentistry. It may be just what you need to have a more pleasant dental experience!
About the Practice
At Advanced Dental Care of Springfield, we have a team of 4 skilled dentists serving the Springfield community. With their combined experience and expertise, patients can get pretty much anything they need conveniently under one roof. To learn more about sedation dentistry or to schedule an appointment at our office, visit our website or call (217) 546-3333.
Comments Off

on The Most Common Questions About Sedation Dentistry – Answered!
No Comments
No comments yet.
RSS feed for comments on this post.
Sorry, the comment form is closed at this time.