December 16, 2022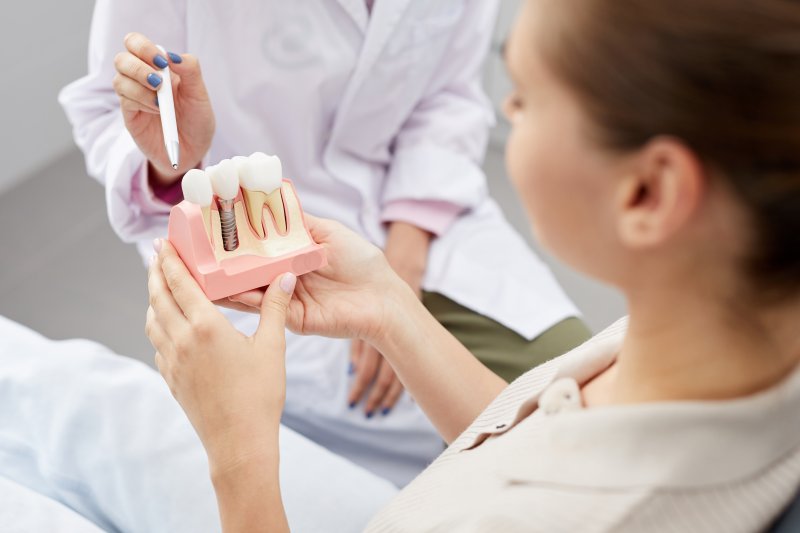 When it comes to tooth replacement, the best option is usually dental implants. After all, these prosthetic teeth look and act just like natural ones! That said, you should know the dental implant lifespan in Springfield before you commit. Having that information will let you make an informed choice. Therefore, your local dentist is here to share some facts. Keep reading, then, to learn about implant lifespan, including how to extend it and prevent early failure.
What's the Lifespan of Dental Implants?
Technically speaking, an implant itself — the placed titanium post — could last a lifetime. Its metal is durable and biocompatible, so it doesn't wear out quickly. However, the crown that caps it has an average lifespan of 10-15 years. As a result, patients often need to replace an implant at the 15-year mark.
Still, this prosthetic — including its crown and abutment — can last longer with proper care. In fact, implants are known to have lifespans of over 30 years in those cases!
What Causes Early Implant Failure?
Sadly, implants sometimes fail earlier than expected (or necessary). While such failure is rare, it's thus essential to keep risk factors in mind.
For example, consider illnesses like diabetes, cancer, or autoimmune disease. These medical conditions raise your risk of early implant failure. In particular, they can slow or even prevent the prosthetic from fusing with your jaw.
Implants can also fail when your jaw lacks adequate bone surface or density. In that case, you may need a bone graft to strengthen the jawbone.
How Do You Extend Implant Lifespan?
Fortunately, you can help your implants last longer by giving them proper maintenance. To that end, try using the tips below:
Clean Your Implants Daily: Dental implants, like natural teeth, depend on good oral hygiene. Therefore, brush them twice daily, floss them once daily, and rinse them with mouthwash. That way, you'll avoid infections that lead to implant failure.
Maintain a "Mouth Healthy" Diet: Sugary, acidic foods can cause gum disease, which makes implants fail. As such, try to eat things like dairy, lean proteins, and leafy greens instead. They'll strengthen and protect your smile!
Avoid Bad Oral Habits: Smoking tobacco can cause poor blood flow and infections, which keep implants from fusing with your jaw. As such, you should quit the habit if possible. The same goes for teeth-grinding and biting hard objects — both practices can fracture your prosthetic.
Ultimately, your dental implant lifespan in Springfield is mainly up to you. Make sure, then, to practice the tips above so your new teeth stick around for a while.
About the Practice
Advanced Dental Care of Springfield is based in Springfield, IL. As led by its experienced team of dentists, our practice strives to give healthy smiles to every patient. To that end, we perform high-quality preventive, cosmetic, and restorative treatments, as well as emergency dental care. You can thus count on us for everything from dental checkups to dental implants! For more information or to book a visit, you can reach us on our website or by phone at (217)-546-3333.
Comments Off

on What's the Overall Lifespan of Dental Implants?
No Comments
No comments yet.
RSS feed for comments on this post.
Sorry, the comment form is closed at this time.